Mike Talkington, Social Media Marketing Strategist and Owner of Talk Media, is one of the Mukilteo Chamber of Commerce's newest members. "I joined the Mukilteo Chamber because this community is where Talk Media and I both claim as home," he said. "The Chamber and the community are vibrant hubs of local businesses and entrepreneurship. Here, near my family, is a great place to establish and grow business and personal roots."
Originally from Minnesota, Mike set up his practice two years ago as a social media marketing consultant, advisor, and tactician, helping businesses firm up their brand awareness and customer retention by creatively bolstering their online presence.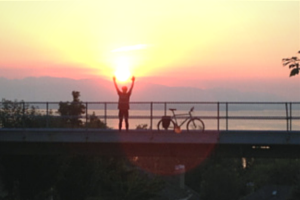 "I love this area," says Mike. He loves to snowboard with his dad, and the fact that the slopes are so close, is a real plus. Also an avid skateboarder and cyclist, Mike draws a parallel between his love for these sports and what he does in the social media and marketing arenas. "Boarding and biking have taught me how vital it is to commit." If a trick is going to work, there's a point of no return, a go/no-go decision to make. Going into a move without that informed confidence and commitment means that the crash-and-burn moments will often happen. The same holds true for using social media as an effective marketing tool.
Active in the community, Mike works with the Mukilteo Lighthouse Festival, the Mukilteo Farmer's Market, and he is a board member of the Japanese Gulch Group.
For more information about Talk Media, visit TalkMedia.co; email Mike, info@talkmedia.co; or Tweet him, @talkmediaco.